Sports Guard and Night Guard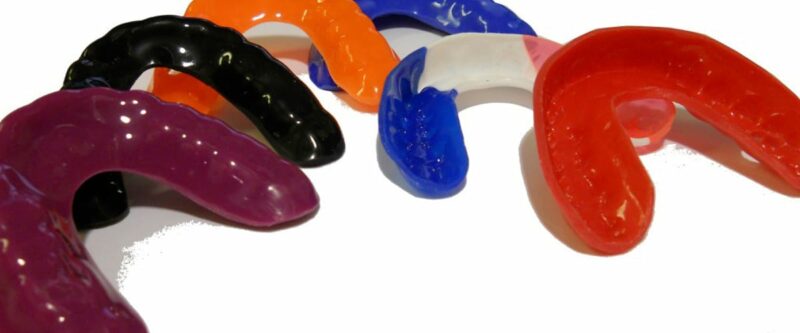 There are a variety of mouthguards available, including sport and night guards. Sport guards come in three varieties: stock, boil and bite and custom fitted. Custom Sports Guard can protect your teeth, tongue, and soft tissues around your mouth in the event of a sports injury to the head and neck area. The appliance is custom made to fit the unique shape of your teeth, making it more comfortable compared with over-the-counter varieties.
Night guards come in two varieties: over the counter and custom. If you have worn teeth or sore jaw joints, night-guards may be the solution. Custom night-guards are made with maximum fit and comfort in mind and will prevent your upper and lower teeth from mutual destruction if you are grinding during your sleep. Patients that suffer from Bruxism, are advised to speak with their dentist about the benefits of a night-guard.
It is important to do some research on what type of mouthguard would be best for you, or if you're unsure come in and book a consultation where we can assess your needs and which guard would benefit them the most.
To care for your mouthguard:
Ensure that your mouthguard is cleaned before and after each use with cold water and a toothbrush.
On occasion, it is important to clean the mouthguard in cool, soapy water rinsing it thoroughly afterward.
For transportation, store mouthguard in a firm, perforated container. This will permit air circulation and prevent damage.
Keep the mouthguard out of hot temperatures, such as hot water, direct sunlight, direct surfaces – this will minimize the distortion of its shape.
Your mouthguard will have general wear throughout its use, if you see any holes, tears or if it becomes discomforting to wear, replace it.
Bring the mouthguard to each regularly scheduled dental visit to have your dentist exam it.